First Class Design // Luxury Aircraft Interiors
Singapore Airlines announced their collaboration with BMW Group Designworks USA in designing their new first class cabin interior for ultimate comfort. The updated design will debut this September on board the new Boeing 777.  We can't help but wonder, did the duo improve any of the coach cabin features. Yeah, we doubt it. We decided to explore some of the world's most luxurious first class cabins that offer a better night sleep and more decadent cuisine than most hotels offer. There's no harm in dreaming, right?
Dubai's Emirates Airlines first class cabin takes luxury travel to a whole new level. Each suite comes fully equipped with sliding doors offering total privacy, adjustable ambient lighting, and a fully flat bed with mattress. Guests sip on the fines wines and indulge in regionally inspired dishes like wild Iranian caviar and stir fried lobster served on fine bone china. Freshen up mid-flight in a classic walnut and marble shower spa.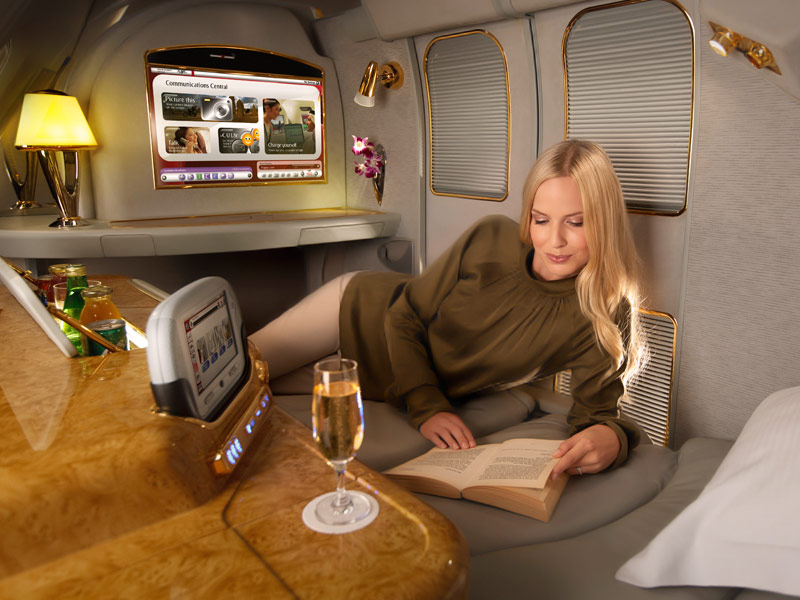 Virgin Atlantic takes first class air travel to a whole new level with their awar-winning Upper Class Suites. Four years of research, engineering and design have gone into making the new and improved Upper Class, which merges both business and leisure amenities to cater to all of your needs. Each seat has its own aisle access, in-seat power supply and flip down cocktail table. The Upper Class seats are some of the most spacious in the sky at 22′ wide and transforming into a 33″ wide, 6.6″ long totally flat bed. We love the revamped cabin look which boosts a futuristic aesthetic, modern accents and flashes of the brands signature red.
Two words: Complimentary pajamas. Thats just one of the many perks of flying first class with Cathay Pacific. Enjoy the best sleep in the sky with 81-inch flat bed, luxury duvets and down feather pillows. As well as fine dining on Asian and international cuisine and exemplary in-flight entertainment, each suite comes complete with luxury amenity kits and travel bags by Ermenegildo Zegna and Aesop, and Parisian skin care products by Darphin.